---
Price : $43.99 $49.99
The SMOK RPM40 40w Pod Kit is easily their most powerful and unique Vape pod system kit to date.
SMOK released an amazing Pod system kit - RPM40! The Smok RPM40 Kit, with the box mod style design and integrates the pod system. There's also a 0.96-inch screen and you can alter your wattage.
SMOK RPM40 Pod Kit is an ultra-portable pod mod that shapes like a cuboid and is covered with glossy finish and characteristic material, making the whole device look fancy and stylish. It is small in size but has a battery capacity of 1500mAh( it will be fully charged in 2hours only) which can ensure enough running time and help you avoid frequent charging, and a power range of 1W-40W for you to adjust, and you can press the UP/DOWN button to get your preferred power.
The internal IQ-R chip is a new one, shortening the firing time to 0.001S, and charging time to two hours. Different from normal tiny and slim pod devices, the front panel of the New Smok Products with one 0.96-inch OLED display, it will show you the vaping data clearly, the clear screen will show you the battery life, working wattage, resistance, working voltage, and puffs.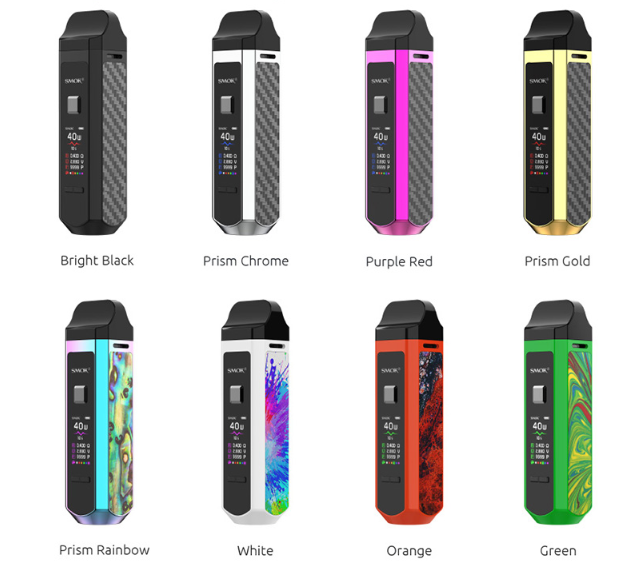 Another awesome feature this pod kit has is that it's compatible with two different types of coils, and includes both cartridges needed. The first is compatible with their new RPM coils, and you'll get a 0.4 ohm mesh coil installed, the newly designed RPM Mesh 0.4ohm Coil is designed for the best flavor and excellent vapor production. Now, the second one is compatible with the Smok Nord Replacement Coils, and installed is the popular 0.6 ohm mesh coil. The refillable pod cartridge has a maximum e-liquid capacity of 4.3ml or 4.5ml depending on which pod is being used. The pods with side e-juice refill design, easy to inject your favorite e-juice and with silicone stopper to prevent leakage. the Smok RPM with the duck-billed mouthpiece, which allow for enhanced airflow and comfortable on the mouth. try the newest Smok Pod Devices for the amazing flavor and massive cloud production.
It features the wide mouthpiece, which allows more air inhalation, just like the drip tip of a classic box mod.
Smok RPM40 Pod Kit Specs and Features:
Size: 99*25*25mm
Advanced IQ-R Chipset
Built-In 1500mAh Battery
Resistance Range: 0.2-2.5ohm
Input Voltage: 3.3-4.2V
Output Voltage: 0.5-4.1V
Output Wattage: 1-40W
Charging Current: 0.88A Max / 5V
0.96Inch OLED Display
0.001S Firing Response Time
Micro USB Port For Charging
Low Voltage Protection
Short Circuit Protection
8S Auto Cut-Off
High-Temperature Protection
Smok RPM40 Pod Specs and Features:
E-Juice Capacity: 5ML(Empty Pod) / 4.3ML(Standard Pod) / 4.5ML(Nord Pod)
Convenient Side E-Juice Refill Design
Duck-Billed Mouthpiece
Compatible With RPM Coils And Nord Coils
Coils: RPM Mesh Coil 0.4ohm / RPM Triple Coil 0.6ohm / RPM Quartz Coil 1.2ohm / RPM SC Coil 1.0ohm
8 Color Options: Bright Black, White, Prism Rainbow, Orange, Prism Chrome, Prism Gold, Green, Purple Red
The Smok RPM40 Pod Kit is easily their most powerful and unique pod system to date, and can certainly be one of the best pod vapes to come out this year. If you're looking for a new vape pod that's not only packs a punch, but is able to house a wide range of coil options, then you'll definitely want to add the Smok RPM40 Pod Kit to your vape collection. With the amount of power, and versatility this device offers, it's going to be hard to beat, especially at this price point.
Vape Wholesale & buy Electronic Cigarettes online in Bulk. Quality Vape Products, cover all the top brand! Trusted Vape Wholesale Supply by VapeShops Owners.
WHOLESALE INQUIRY:  https://www.ave40.com/wholesale-service.html